Against all odds, the Central Australia Tour 2000 for Gleneagles managed to make it home. We faced icy cold nights and mornings, methane attacks (Mr. V's farts) and long bus trips singing "It's got to be-ee-ee-ee-ee-ee perfect"!
Our objectives of seeing the natural wonders of Central Australia, and climbing the most famous-Ayers Rock, were easily achieved. The toughest task was getting up to have breakfast while there was ice covering our tents!

"These dim sims taste crap in New South Wales!"-David

"Are these mountains natural?"-Cassandra

"Too many freaks, and not enough circuses"- Brendan

"How's the serenity!" - Chris, Mr. Beard & Mr. Van Hattum

"Who's got the shoe?"- Mr. Beard
Click here for more quotes!
Leaving Gleneagles at 9AM, we expressed to Kulgera for our first bush camping experience, only stopping for toilet and food breaks. Sleeping on the bus was a bit of a nightmare for some people, but it gave us more time in central Australia.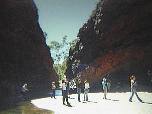 Next stop was Alice Springs, where we had plenty of time for shopping and seeing the sights. We visited John Flynns grave, Flying Doctors, Standley Chasm, Anzac Hill, and Simpsons Gap, as well as a tour of Alice Springs. Ten pin Bowling was a highlight.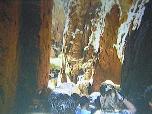 Black kangaroos do exist, but only on road signs!

80% of people in Coober Pedy live underground.

Albatrosses live on deserted islands.

Alice Springs Rubber Snakes are only dangerous if you eat them!

There is a Dreamtime story of a man picking up a didgeridoo at The Olgas, NOT!

The Olgas, Ayers Rock and Mt. Conner line up exactly, and if you follow that line you will hit Fraser Island in Queensland!

The famous Dingo Fence is the longest fence in the world.
After packing our tents up at Alice Springs it was off to the famous Ross River Station for a really remote bush camping experience. As an added bonus we got to see a demonstration of how to get a bus and trailer bogged in a dry riverbed. It had become very soft after the recent storms that turned the entire Red Centre to Green! Unfortunately it took a couple of hours to dig out the bus and have it pulled out by some locals with their Ute's.
Mr. Van entertained us with his very tricky riddles, such as the Albatross, the melted snowman and the world's smallest man suiciding.
The next day we packed up and walked across the dry river and the bus met us there. Next stop was for camel riding, where some girls nearly got more than they bargained for, as their camel made a run for freedom with them still on top!
We drove on to Kings Creek station for our next camp, passing the Ayers Rock wanna-be Mt.Conner.
Day seven started early with a short drive to Kings Canyon. The walk was very tough with old sport injuries showing up during the uphill climb.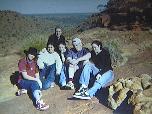 Kings Canyon Slow Coach Brigade
The views were spectacular, and the Garden of Eden was very serene. Although we were tired it was back to camp to pack up before heading off to Ayers Rock camping ground. Mr. Beard entertained us around the campfire with his annoying "Shoe game".

Nathan can play the didgeridoo very well after reading the tiny paragraph of instructions on his souvenir!

Scientist believe that Ayers Rock and The Olgas were chunks of rock pushed up through the Earth's crust.

Ayers Rock is 383 metres high.

Coober Pedy receives only 10 cms of rainfall per year!

Central Australia is not a state.
Up early to catch the sunrise at Uluru (Ayers Rock), and it was still freezing cold! We started walking as soon as it became light enough. There were more Japanese tourists than you could poke a didgeridoo at!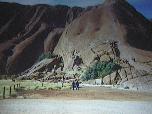 The climb was very tough, and some peoples fear of heights became obvious. But most of those who attempted the climb made it to the top, and what a relief it was. Special congratulations to Karlee, Karlene and Cassandra, who conquered their fears.
The view was excellent and we took some cool photos!
After the long climb back down it was back to camp with some of us going for a flight over the Rock and the Olgas, which was magnificent, especially for Brent and Donna, who had never been on a plane before!
Next stop, was a walk through Kata Tjuta (The Olgas), where we went into a cool valley. We then caught the final rays of sunlight on Ayers Rock before packing our bags for an early start the next day.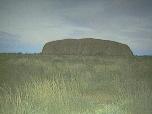 This Website was produced by Steven Beard of SB Designs. Copyright Ó SB Designs, 2000.
Copyright Notice.
Email Addresses:
sbdesigns@hotmail.com
Company Web Site:
http://sbdesigns.freeservers.com/
index.htm
If you have any other scanned or digital photos, please email them to me as JPG's or ZIP's at sbdesigns@hotmail.com
Page last updated on: 31/03/01
We had a big day of driving ahead of us as we loaded our packs onto the bus. After driving nearly all day we got into Coober Pedy at about 5PM.
There we had a guided bus tour, and a visit to an Opal Mine. We stayed up late as it was our last night in a bed, and what made it even better was that it was completely UNDERGROUND!
The next morning we all slept in until 8AM, before the long haul back home.
Once again it was very difficult to sleep in the bus, but the trip was made very enjoyable when we watched videos of Austen Powers 1 & 2, and The Matrix. Dinner was at Maccas in Adelaide and Breakfast (also at Maccas) was at Melton.
We got back to Gleneagles at 8AM, tired but excited at the fantastic trip we had to Central Australia!